When you hear the word "mustang," images of a thoroughbred or an iconic sports car probably come to mind, but that's all about to change. With the 2022 Ford Mustang Mach-E in its lineup, the automaker we represent dares you to think of an eco-friendly SUV instead.
With a starting MSRP of $43,895, the Ford Mustang Mach-E is a practical pick for drivers who want a familiar nameplate that will enable them to limit their carbon footprint.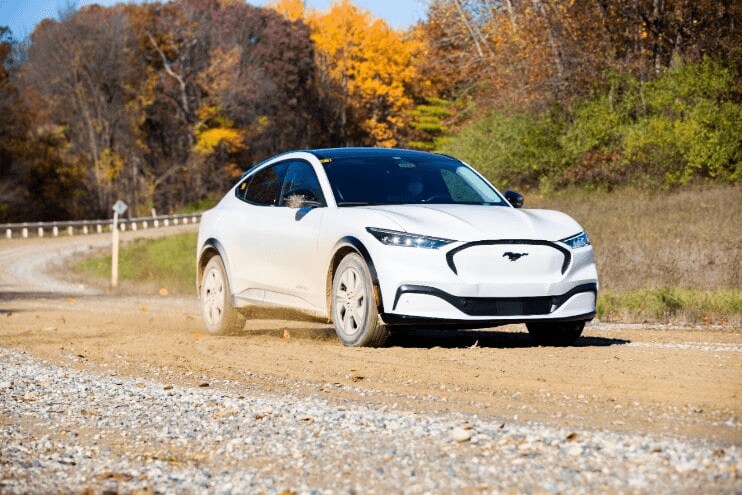 Must-Know Details
Drivers who contact our Ford dealership serving Roseville, CA are often curious about what powers the Ford Mustang Mach-E. When asked, we explain that the roomy EV is available with either rear- or all-wheel drive. SUVs with RWD have one electric motor while vehicles with AWD have two.
The SUV's driving range and power vary depending on the drivetrain, trim, and battery type. As you probably guessed, SUVs with the extended-range battery can go farther between charges compared to vehicles with the standard battery.
SUVs with the standard battery and RWD can travel up to 230 miles between charges while vehicles with AWD can cover 211 miles. Extended-range SUVs with RWD can go 300 miles before they need a charge. Vehicles with AWD and the extended-range battery can cover 270 miles of roadway between charges. The exceptional California Route 1 trim can traverse 305 miles with RWD and 300 miles with AWD.
About the EV's Safety Equipment
Motorists who view the Ford Mustang Mach-E at Folsom Lake Ford are often blown away by the SUV's spacious cabin and active safety features. The vehicle's drowsy driver monitor will issue an alert if it notices that you're too fatigued to drive safely.
Rear parking sensors make it a breeze park the SUV in tight spaces. Adaptive cruise control will maintain a static distance between your SUV and the car in front of you even if the lead car switches speeds.
Technology Features
Being Ford dealers, we can tell you that the latest Ford models have state-of-the-art tech features. As they relate to the Ford Mustang Mach-E, those features include:
5-inch infotainment touchscreen
Apple CarPlay® and Android Auto™ connectivity
Dual USB ports
Satellite radio
Bluetooth® integration
Whether you're looking for new Ford trucks for sale or you want a 2022 Ford Mustang Mach-E, contact our Ford financing center to learn about our Ford lease and finance offers now!