For over four decades, Ford's F-series of trucks have proven their strength and abilities. And now, there's one more thing to prove: the 2022 Ford F-150 Lightning all-electric, gas-free truck measures up. At Folsom Lake Ford, we can show you everything this vehicle has to offer.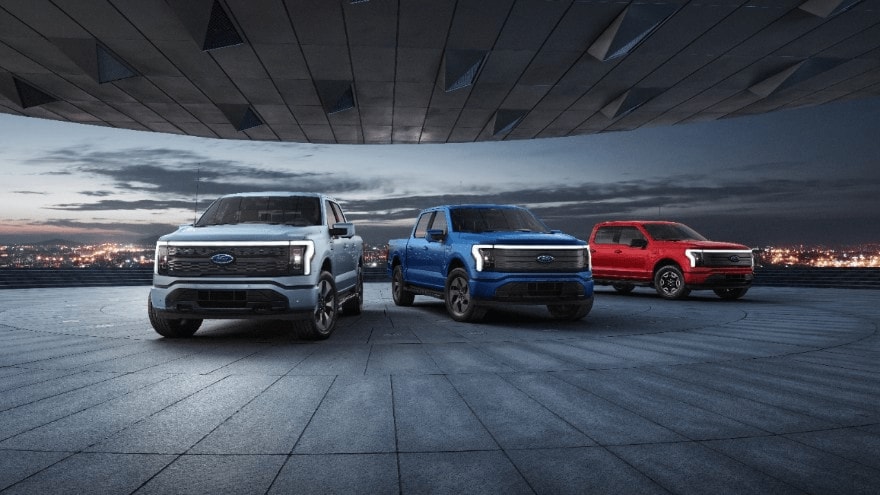 Charging Capabilities
Each 2022 Ford F-150 Lightning is equipped with a lithium-ion battery pack, situated just right so it's fully protected when you're off the road on rougher terrain. You won't even miss any room or cargo space, since it's mounted between frame rails.
Armed with a standard-range battery, you'll get an EPA-estimated range of 230 miles. Go with the extended-range battery option, and increase that range to 300 miles. Here at our Ford dealership in Folsom, CA, we can help you figure out which battery will work best for your needs.
To fully charge up your Ford F-150 Lightning, the standard 32-amp Ford Mobile Charger plugs into a traditional 120V or 240V outlet. You can also opt for an 80-amp Ford Charge Station Pro. Either way, you can charge at home, or you can stop at one of the charging stations on the road.
While you have to charge your Ford F-150 Lightning to make it go, there's another version of charging you'll definitely want to know about. This multi-purpose truck can also charge your house, or your worksite. The available Ford Intelligent Backup Power allows you to use your truck as backup power source.
Feel the Power, Ride the Lightning
Two inboard motors power a standard 4x4 system for almost instant torque on the 2022 Ford F-150 Lightning, while an independent rear suspension gives smooth rides and superior handling.
If you need to haul cargo, a payload capability of 2,000 lbs is there in the bed of the truck. There's also a maximum available towing capacity of 10,000 lbs for trailers, and anything sitting on those trailers.
This Ford truck has the power to pull those loads, too. The extended-range battery has a targeted 563 horsepower and 775 lb ft of torque. With the electric motor capable of big torque with basically zero RPMs, you have the ability to go from zero to 60 mph in about 4.5-seconds.
Starting at $39,974, ask us about Ford financing to see how we can help put you behind the wheel. Schedule a test drive for the 2022 Ford F-150 Lightning here at Folsom Lake Ford. You'll be impressed!